[eenadu] Vinayaka Chavithi Pooja Book 2023 Pdf (Telugu). Download Vinayaka Chavithi Book Online with Pooja Vidhi.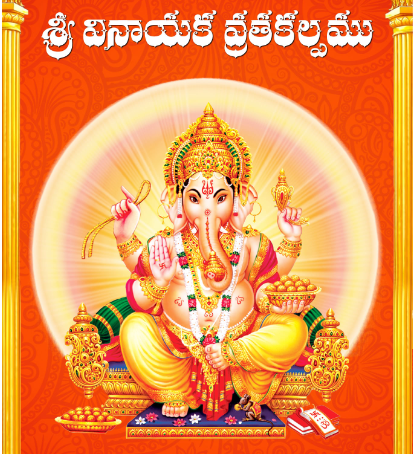 Check general outline of the traditional procedure for performing Vinayaka Chavithi Pooja. Please keep in mind that the details may vary depending on regional and family traditions. It's always a good idea to consult with a priest or refer to a trusted source for a detailed Vinayaka Chavithi Pooja book or guide.
Materials Needed for Vinayaka Chavithi Pooja :
Idol or picture of Lord Ganesha
Turmeric powder, Kumkum (vermilion), and sandalwood paste
Flowers, especially red and yellow
Incense sticks and a lamp with ghee or oil
Fruits, sweets, and other offerings
Camphor
Coconut
Modak (a sweet dumpling often offered to Lord Ganesha)
Vinayaka Chavithi Pooja Procedure 2023 :
Purify Yourself: Take a bath and wear clean clothes before starting the Pooja.
Prepare the Pooja Space: Clean the area where you plan to perform the Pooja, and set up an altar or platform with a clean cloth.
Place the Idol or Picture: Put the idol or picture of Lord Ganesha on the altar.
Invoke Lord Ganesha: Perform a simple prayer to invoke Lord Ganesha's presence.
Offerings: Offer flowers, turmeric, kumkum, sandalwood paste, incense, and a lamp with ghee or oil to the deity.
Chant Mantras: Chant Ganesha mantras and slokas. One of the most common mantras is the Ganesha Moola Mantra – "Om Gam Ganapataye Namaha."
Offer Fruits and Sweets: Present fruits, sweets, and other favorite offerings to Lord Ganesha.
Modak: Modak is considered Lord Ganesha's favorite sweet. You can offer modak as a special offering.
Aarti: Perform aarti with camphor and show it to the idol while singing or chanting aarti songs.
Prayers and Vrata Katha: You can read or listen to the Vinayaka Chavithi Vrata Katha (story) and offer your prayers.
Prasad: After the Pooja is complete, distribute prasad (blessed food) to family members and guests.
Visarjan: At the end of the festival, you can perform a symbolic immersion of Lord Ganesha by taking the idol to a water body or simply sprinkling water on it.
This is a general guideline for Vinayaka Chavithi Pooja. The specific rituals and customs can vary based on regional traditions and personal preferences. If you're looking for a more detailed guide, consider consulting a Vinayaka Chavithi Pooja book or seeking guidance from a knowledgeable person in your community.
Download Pdf file : Vinayaka Chavithi Book